United opposition to No10's Rwanda deal
Thursday 21st April 2022 3:39 pm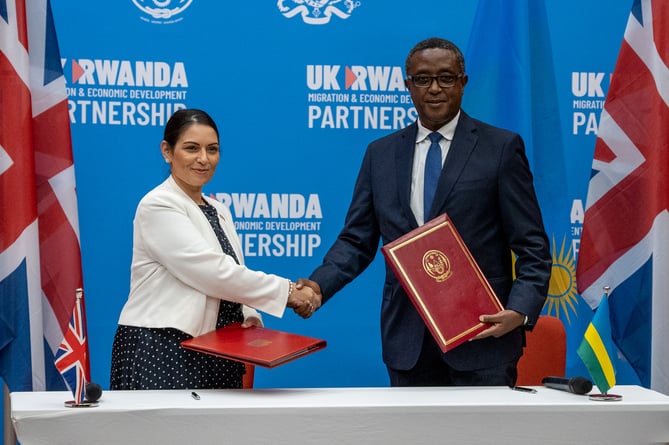 Home secretary Priti Patel and Minister Biruta sign the migration and economic development partnership between the UK and Rwanda PHOTO: UK HOME OFFICE
Subscribe newsletter
Subscribe to our email and get updates right in your inbox.
A PETERSFIELD charity that has been helping re-home Syrian refugees in East Hampshire and is now looking at helping Ukrainian refugees says the government's 'Rwandan' proposal should be scrapped immediately.
In a statement, the Rural Refugee Network said the charity was 'appalled' by the government's plans to send asylum seekers who cross the English Channel to Rwanda in central Africa while their asylum claims are processed.
"People fleeing war and persecution need protection, not a 'one-way ticket' to a country 6,500km away which has been called out for its human rights abuses by the UK government.
"Most refugees don't have the time or opportunity to enter Britain legally. They often come from countries where there are no safe routes and few legal options.
"Tired, desperate and traumatised after months and sometimes years of war or persecution, they flee as a last resort. Once on the road to 'safety' they are prey to traffickers and more violence and abuse.
"The primary reason why refugees flee is the desire to reach a safe place.
"Agents such as a smuggler select the country and often asylum seekers are not given a choice.
"Those who can choose the UK because they have links to this country, including colonial links, language, or have family already settled in the UK.
"They believe the UK is a more tolerant and democratic country than the place they are leaving behind.
"Fundamental principles of any democratic government are to uphold the values of liberty and human rights and to protect those seeking safety.
"We should not be shifting that responsibility to countries like Rwanda with questionable human rights and less-developed asylum systems."
According to Human Rights Watch, Rwanda has serious human rights failings, added the statement.
In 2018, it says Rwandan security forces shot dead at least 12 refugees from the Democratic Republic of Congo when they protested a cut to food rations.
Authorities then arrested and prosecuted more than 60 of them on charges including rebellion and 'spreading false information with intent to create a hostile international opinion against the Rwandan state.'
The statement continued: "Rwanda has a known track record of extra-judicial killings, suspicious deaths in custody, unlawful or arbitrary detention, torture and abusive prosecutions, particularly targeting critics and dissidents.
"In fact, the UK directly raised its concerns about respect for human rights with Rwanda, and grants asylum to Rwandans who have fled the country, including four just last year.
"The Russian war in Ukraine has been a crash course on the plight of refugees for many who, for the first time, are witnessing the horrors of war played out 24/7 on their screens.
"Thousands of compassionate families and individuals are opening their doors to Ukrainians fleeing danger.
"We are learning about the obstacles of the lengthy visa process, and the very real complications and costs of resettling here in the UK.
"Whether asylum seekers are fleeing Russian bombs in Mariupol or Idlib, torture in Iran, abuse by the Taliban in Afghanistan, death squads in South Sudan or famine in Somalia, it is our international duty to share the responsibility of protecting asylum seekers.
"We can lead the way in creating a humane and efficient asylum system.
"There is no easy solution but we can and must do better than this."
n Rural Refugee Network was formed in Petersfield in 2015 in response to the Syrian Civil War.
It works with the Home Office and Hampshire County Council to resettle refugees and asylum seekers in East Hampshire.
For more information or to support the charity visit the website www.ruralrefugeenetwork.org
Comments
To leave a comment you need to create an account. |
All comments 0