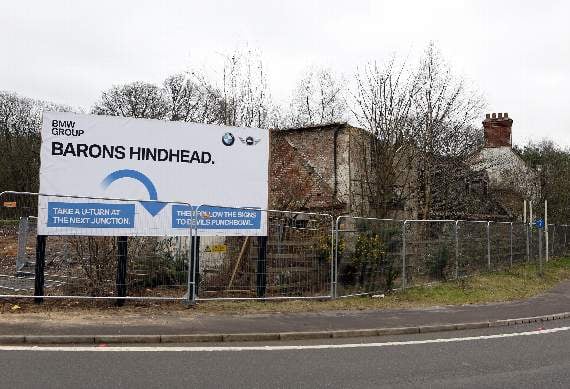 Barons of Hindhead has bought the Spaniard Inn site
()
Subscribe newsletter
Subscribe to our email and get updates right in your inbox.
THE SPANIARD Inn site could finally be set for redevelopment.
The Spaniard Inn building has been in a derelict state for a number of years.
Barons' head of business Peter Wakefield said: "We have purchased the land with the intention of applying for planning permission.
"Hopefully we are getting nearer with that.
"The plan is to move the service centre, the sales showroom and the parts department to the Spaniard Inn site."
The move would lead to an increase in employment by the company.
Peter said: "This is good news for East Hampshire as we already employ 70 local people, and this will probably increase to nearly 100 people when we open the new showroom.
"The feedback we have had so far from local people is that they are happy to see something go on the site.
"The site is limited as you can't put houses on it as it is a brownfield site, and I can't think of anyone else who would want to set up there as it will probably not be useful for much.
"For us though it is an ideal location.
"We probably couldn't ask for a better site, and it is not taking up potential housing.
"It will also free up our current site in Hindhead, which could potentially become housing, so it would appear to suit everyone.
"We have gone through various stages of the pre-application process with East Hampshire District Council and we're at the point now where they've outlined what they would like to see."
The community will be able to put their questions to Barons at a public consultation later this month.
Peter added: "We are holding a public consultation at the Devil's Punchbowl Hotel in Hindhead from 1-5pm on Tuesday, March 14.
"We want to work with local people and listen to their concerns.
"We will be transparent throughout the process.
"We've been in Hindhead for 30 years and there are a lot of people with BMWs and Minis who we provide a service for in the local area.
"Hopefully this is an exciting thing locally.
"We are planning to keep the building in keeping with its rural setting."
Previously a hotel and nightclub, the building was destroyed by fire in the 1990s.