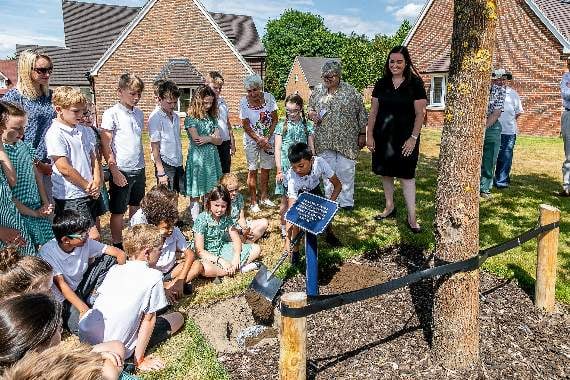 Liphook Junior School pupils helped bury a time capsule in the grounds of Bramshott Place
()
Subscribe newsletter
Subscribe to our email and get updates right in your inbox.
The time capsule was buried to create a permanent landmark to commemorate the completion of the final phase of Bramshott Village.
The time capsule event was designed to give the school children an insight into local history and the future. Year 3 and Year 4 pupils at Liphook Junior School helped create items to go inside the time capsule, including drawings of what they think homes of the future will look like.
Village manager Stacey Harley-Sayles previously visited the school to introduce Bramshott Place and to ask for their help with creating the items for the time capsule. Stacey talked to the pupils about the history of Bramshott Place and the surrounding area and about how home design is always changing and adapting to inspire their drawing activity.
The children then visited Bramshott Place to see the time capsule being buried, which was placed by a tree.
The children's drawings of 'homes of the future' were entered into a competition, and prizes were awarded to the children who created the most impressive drawings.
During the burial ceremony, Stacey talked to the children about the significance of the time capsule project and showed the children the other items being buried within the capsule which represent the village as it is today and its history.
These items included an autobiographical snapshot of staff and some residents at Bramshott Place, newspapers, village newsletters and the 2018 Royal Mint collection of coins.
Bramshott and Liphook parish councillor Susan Garnett also attended the event and spoke to the children during the burial ceremony about the wider importance of the project in which they had taken part.
The children also met other village staff and residents, who were treated to a performance of war time songs by the pupils, and each child was given a goody bag to take home.
Inspired Villages Group events manager Rebecca Parker said: "We wanted to do something to mark the completion of Bramshott Place and to create a fun and informative activity for the local primary schoolchildren. We hope the activity was interesting for the school children and that it has helped to inform their understanding of their local history, the future, how we live and of community."