Petersfield nephew finds his uncle's last resting place 104-years on from battle
Monday 8th November 2021 2:39 pm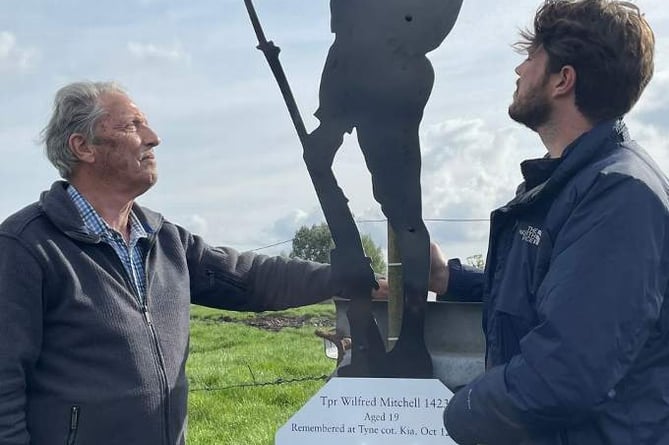 Peter Dimond (left) and his son Ben at the memorial to Peter's uncle
()
Subscribe newsletter
Subscribe to our email and get updates right in your inbox.
A PETERSFIELD man has travelled to Belgium to erect a memorial to his uncle who died in the First World War, but whose remains were never found, or his last resting place never known.
Peter Dimond said: "Recently, years after my mother passed away, I uncovered a picture of uncle Wilfred, together with some personal letters and papers.
"The more I looked at his picture the more I decided to try and find out what happened to him."
The hunt for the last resting place of Trooper (Tpr) Wilfred Mitchell began on the internet, where it was discovered he is remembered at the Tyne Cot Memorial in Belgium.
The memorial and its cemetery commemorate 11,961 servicemen who died. Of these 8,373 have no known grave.
The telegram informing Peter's mother of her only brothers' death in action on October 12, 1917, held no other details.
But the online information revealed Tpr Mitchell of the Household Battalion died in the attack on Requete Farm near the village of Peolcapelle in Belgium during the Battle of Passchendaele.
The battle for control of the ridges south and east of the Belgian city of Ypres in West Flanders lasted from July to November 1917.
The advance by the Household Battalion on October 10 saw it suffer severe losses during a heavy barrage along the Poelcapelle-Schreiboom road.
Then on October 12, an extra tot of rum was issued, and at 5.25am the battalion went into attack; by 5.50am it had achieved its first objectives, including capturing the pill box complex at Requete Farm.
But German machine gun and artillery fire increased and as the battalion shrunk, the Germans recaptured the farm; the fighting around it was intense all day.
It is not known where or at what time Wilfred was killed, but his body was never found.
The Household Battalion went into this action 498 men strong; it suffered 348 casualties, with 13 officers also hit. The majority of the men killed have no known grave.
Having pinpointed where his uncle died, Peter decided to mark the spot with a memorial.
He said: "My son Ben and I put up a metal silhouette of a First World War infantryman at Requete Farm with a plaque. On the night of October 12, 2021, 104 years to the day after my uncle died, we stood vigil at 5am, which was about the time Household Battalion was preparing to attack."
Comments
To leave a comment you need to create an account. |
All comments 0