Lucky escape for Horndean family as tree falls on car following lightning strike
Tuesday 8th August 2017 3:45 pm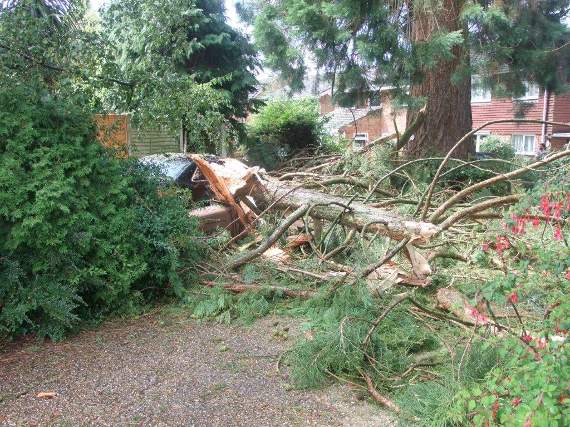 James Beaves was confronted with this devastating scene on Saturday afternoon as lightning struck a tree close to his front door.
()
Subscribe newsletter
Subscribe to our email and get updates right in your inbox.
A HORNDEAN family had a miraculous escape on Saturday after lightning struck a tree just a few yards away from their front door.
A baby was sleeping in the front room of the family home on The Coppice when the bolt struck the top of the sequoia, bringing an 8ft chunk of it crashing down.
The section fell on two cars, causing serious damage to one, and also brought down part of a neighbouring fence.
But, remarkably, no properties surrounding the tree – one of the tallest and oldest in the village – suffered any damage.
James Beaves has been thanking his lucky stars as he parked his company car just 20 minutes before the "crazy storm" that hit the village at around 12.40pm.
He said: "If the lightning bolt moved a few feet or so this way I'm not sure how much of the house would still be here. I can't really describe it other than an explosion, as there was an enormous bang and it was a bit frightening.
"When I walked out the front door I knew straight away something bad had happened as there were bits of tree all over the place.
"The bolt struck the top of the tree and also tripped our electricity but there was no damage to the house, which was amazing.
"It's likely the car will be written off but thankfully no one was in it. We only parked there 20 minutes beforehand."
The sequoia which was struck was more than 160-years-old, having been planted to commemorate the Battle of Waterloo.
Gary Puttock, a tree surgeon from Heyshott in West Sussex, worked tirelessly throughout the weekend to make the sequoia safe but the family were forced to sleep elsewhere on Saturday night due to concerns about its stability.
It looks likely that the remainder will be axed as a vertical line, showing the trail of electricity heading to the ground, can clearly be seen on the trunk.
"It's a real shame about the tree as we genuinely liked it," said Mr Beaves.
Carol Smith, who lives next door, was sitting in her lounge when the "fine specimen" was struck.
She said: "This happened right in front of my eyes and took down part of our fence.
"There was a shot of light, an enormous bang and suddenly half a tree came falling down in front of my vision.
"It was astounding but it's also amazing that nobody was hurt."
Further thundery downpors could take place today (Wednesday) along with some localised flooding as the Met Office has issued a yellow weather warning of rain for the south east.